Dental Veneers in Melbourne CBD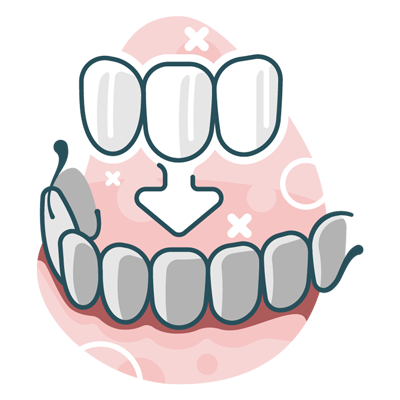 At Collins Street Dental, we understand the importance of having a smile that exudes confidence. When it comes to the cosmetic enhancement of your smile, we possess considerable expertise. Our dentists will always take the time to discuss which cosmetic option will work best for you. Veneers are often a perfect choice for beautifying one's smile!
NEW PATIENTS »

What Are They?
Veneers are customised tooth coverings that can improve the colour or shape of a tooth/multiple teeth and can change the width of your smile. We offer both composite veneers and porcelain veneers. They can improve the appearance of teeth that are:
Composite vs Porcelain
Composite Veneers
The advantage of composite veneers is that they seldom require any removal of tooth structure. These veneers can also be repaired, added to, and polished over time if they become stained. They are completely reversible and can usually be removed without damage to the underneath structure.
Composite veneers do require more maintenance than porcelain veneers, as composite can become stained, like your own natural teeth over time. The expected longevity of a composite veneer is usually less than porcelain veneers
Porcelain Veneers
In contrast, a porcelain veneer resists stains from drinks including tea and coffee. Porcelain is a stronger material, so these veneers tend to last longer than those made using composite resin.
However, unlike composite veneers, a small amount of tooth often must be removed in preparation for a porcelain veneer. Porcelain veneers can last for 10 years, frequently longer although it is important to note a porcelain veneer cannot be repaired or modified. If the veneer is damaged, or the gum shrinks away from the tooth, the veneer may need to be replaced.
Why Choose Collins Street Dental for your dental veneers?
Great, natural looking veneers can make a smile light up a room, whereas some can look very fake. Providing beautiful, natural-looking veneers requires an artistic eye. This, and an experienced dentist who has completed extra training to be able to either design and/or craft veneers that appear natural, preserve the natural tooth and are designed to last. Our highly experienced dentists understand the poetry of a smile and incorporate their knowledge of things like colour, light reflection and translucency and shape and proportion, as well as the mechanics of how teeth function. Our dentists work with a team of highly skilled dental technicians to produce illuminating porcelain veneers and possess the hand skills to craft beautiful composite veneers.
With any veneers, we can also have your input into the design using digital smile technology. This technology takes into account your face, smile and the way you function (e.g. talking and chewing) to ensure the design not only looks natural and suits you, but also lasts as long as possible.
Frequently Asked Questions
How long does it take to get veneers?
Composite veneers can usually be completed in a single visit, following your consultation, Our dentists will plan the amount of time required to create a beautiful natural result for you. Sometimes a follow-up visit is recommended for final polishing.
Porcelain veneers require 2-3 visits, once the design is completed with your input and when you are satisfied with the proposed end result.
Whether you choose composite or porcelain veneers, good dental hygiene is important to ensure they look good for as long as possible, and that your gums remain healthy. We recommend you schedule regular
professional cleaning visits
with us.
It's also important to know that veneers are not invincible! It is possible to crack or chip them like your own natural teeth. So, if you grind your teeth, it is usually recommended to wear a dental splint at night. You should also avoid applying heavy biting force (e.g. chewing on ice, bones or hard objects) which can damage the veneers.
The Services Our Team Offers
Book an Appointment
Contact us today to schedule an appointment to find out if veneers are right for you!

Dental Veneers Melbourne CBD | (03) 9654 5144