Children's Dentistry in Melbourne CBD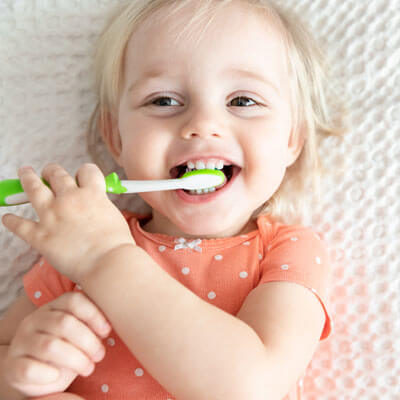 We understand the importance of a positive dental experience for your child and our clinicians are all trained in making your child feel comfortable in our friendly environment. Children's dentistry includes screening for developmental abnormalities such as 'chalky teeth', missing teeth or impacted teeth. It also includes routine examinations to identify possible risk factors for tooth decay and looking at habits such as 'thumb sucking'.
We offer professional tooth cleaning and preventative treatment, such as fissure sealants along with fillings and other necessary care.
NEW PATIENTS »

What Are the Benefits of Children's Dentistry?
Keeping healthy teeth is essential for all ages, but a healthy start sets up your child for a lifetime of easier maintenance. Tooth decay can spread faster in baby teeth and can affect your child's overall health. Children with tooth decay can have chronic pain and often have poorer nutrition. With regular dental examinations, we aim to help prevent decay and educate children on the importance of toothbrushing and dental-friendly diets.
Our dentists are able to advise on your child's tooth position, facial growth and assess the need for orthodontics. We provide orthodontic treatment in-house, including Invisalign Teen, Fixed Braces and we focus on Early Intervention Orthodontics with a holistic, non-extraction approach, where possible. Your child's orthodontic appointments can be coordinated with their regular routine dental appointments, reducing the number of visits that you need to schedule.
How Does Children's Dentistry Work?
The Australian Dental Association (ADA) recommends children begin seeing the dentist when their first tooth comes in, or by the time they reach one year of age.
Children require a different approach to feel comfortable with dental care, and our goal is always to ensure that kids enjoy their experience and come away feeling happy and excited about their experience.
As your child grows, we will educate them about their teeth and set them up with great habits and good oral health for life.
Why Choose Collins Street Dental for your children's treatment?
Collins Street Dental is a family clinic and provides the same outstanding care for patients of all ages. Our dentists and preventative team are experienced with kids and offer a gentle, fun approach to making them feel comfortable. We use age-appropriate language so they understand what's happening and learn the skills and responsibility for looking after their teeth.
Our team has the expertise to deal with all types of children's dentistry, from orthodontics to treating dental trauma. We also offer mouthguards for sports, as well as special mouthguards for use with braces.
Frequently Asked Questions
How often should children get checkups?
Your child should get a dental examination and professional tooth cleaning once to twice a year dependent on their age and other risk factors. If your child is at an increased risk of dental caries (decay) or requires monitoring, such as after trauma to a tooth from a fall, we may recommend more frequent visits.
When should kids be assessed for braces?
The perfect age for an orthodontic assessment at seven to nine years old. At this age we can identify and guide jawbone growth to encourage healthy orofacial (mouth and facial structure) development and reduce the chance of needing future extensive orthodontics.
The Services Our Team Offers
Schedule an Appointment
Contact us today to book an appointment for your child.

Children's Dentistry Melbourne CBD | (03) 9654 5144