Dental Implants Melbourne CBD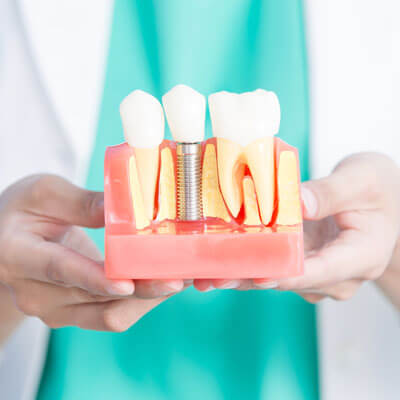 If you have missing teeth you may feel too self-conscious to smile, or can't enjoy all the foods you once loved to chew on, dental implants are a proven way to permanently replace missing teeth. These small fixtures are essentially artificial tooth roots inserted into your jawbone. Each one is designed to function and feel like a natural tooth. Implants can replace individual or multiple teeth simultaneously. This will help you smile with confidence or continue to derive nourishment from proper chewing and digestion of your food.
What Are the Benefits?
Implants are known for improving aesthetics, but just as much for their functionality. Each dental implant looks and functions like a natural tooth, minimising any impact on your day-to-day activities. You can eat and speak as comfortably as possible. Unlike more conventional tooth replacements, dental implants do not adversely affect the health of adjacent teeth. They stand completely independent of other teeth in your mouth, maintaining your oral health.
With proper home care and professional maintenance, your new dental implants can last for many years to come.
What to Expect
Dental implant treatment can be completed on the day or spread over 2-3 stages. Your initial consult begins with an X-ray and 3D scan of the area where your tooth is missing. This information allows us to determine if implants are feasible and how many you will need. In most cases, dental implant therapy is a minor procedure that can be completed with a local anaesthetic. We aim for it to be a pain-free experience for each patient.
Why Choose Collins Street Dental for your dental implants?
Having the tooth and supporting implant placed in one location allows for a seamless process, rather than waiting for letters to go between clinics. We offer complete in-house therapy, so we do not need to refer you elsewhere to have your routine implants placed. At Collins Street Dental we know you and your dental health and understand where your dental implants fit in the context of your overall dental health. Everything is completed right here in our office with a team you know and trust.
Frequently Asked Questions
Does it hurt to get dental implants?
You may be surprised to learn that it's quite comfortable to get dental implants placed. Only a small amount of numbing medication is required.
How long do dental implants last?
With proper home care and regular checkups, your implants can last a lifetime. The teeth on top of the implants may require replacement every 15 years.
How many dental implants will I need?
Individual implants can be used to support a single tooth crown, while pairs of implants may anchor a 3-4 tooth dental bridge. As few as four implants can support a full-arch of teeth.
The Services Our Team Offers
Complimentary Second Opinions
Contact us today for a no-obligation consultation with one of our dentists.

Dental Implants Melbourne CBD | (03) 9654 5144