Preventative Dentistry in Melbourne CBD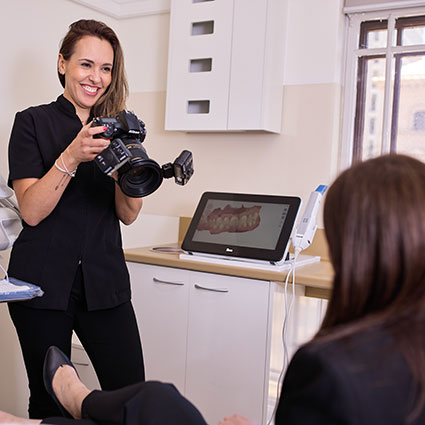 Our preventative care program at Collins Street Dental has been in effect for over 30 years (through our sister practice). Each of our specially trained clinicians focuses on your whole health, as well as maintaining your smile for the years ahead. With proper home care and preventative therapies, you can enjoy optimal long-term oral health.
What's good for your mouth is also beneficial for the body. By addressing dental risk factors, you may enjoy better overall wellness too."
What to Expect
During your exam, our highly trained dental hygienists will carefully measure your gums at six sites around each tooth to create a baseline recording that we can monitor for the rest of your life. This concrete data reduces the risk of subjective treatment decisions in the future, allowing us to detect changes in your oral health, so we can treat them while they're still reversible.
Sometimes a follow-up appointment is needed to see how your body's immune system responds to treatment. You'll be able to walk out with a clean smile and fresher breath.
In addition to your scale and clean, we also offer fluoride and desensitising agents. Dietary counselling to prevent dental disease is also available if necessary. Our hygienists will discuss regular home maintenance techniques as they apply to your unique smile.
Each of our hygienists and oral health therapists completes a comprehensive induction program before joining our practice. We want to ensure that your visit with us is entirely comfortable and pleasant for all the many years we will look after your dental health.
We're Here for Your Family
Our goal is to create a spa-like experience during your dental checkup. From enhanced patient comfort and a warm blanket to a cool towel at the end of your visit, no detail is excluded. You can plan for each checkup to be tailored to your needs. While we take the time needed for a thorough treatment, most visits are a little under an hour.
Why Choose Collins Street Dental For Your Preventative Dentistry Treatment?
Having your teeth cleaned can be like washing your hands. A quick handwash or a thorough scrubbing, including cleaning under the nails. We take the time to do it thoroughly to ensure your gums are healthy and your breath is fresh, however, dental cleaning doesn't have to hurt to be thorough.
Our hygienists are specially trained in our induction program to ensure it is almost painless. Come and experience the Collins Street Dental preventative care difference.
Frequently Asked Questions
We would like you to think of your preventive maintenance as a "gum facial". Our hygienists are specially trained to make this process as completely comfortable for our patients as possible. 
Why do I need regular checkups?
By identifying needs early on, we can help you resolve issues sooner and prevent major issues like decay, gum disease and tooth loss in the future. 
How often should I book a checkup?
The frequency of your care is reflective of your own health and tailored to your specific needs. That's why we take measurements, so we know your dental health and tailor recommendations to your needs. We aim to prevent issues before they start. People with extremely healthy mouths typically need a checkup at least twice per year. 
The Services Our Team Offers
Request a Checkup Today
Are your teeth due for professional cleaning? We can claim all private health cover plans. Contact us today to schedule.

Preventative Dentistry Melbourne CBD | (03) 9654 5144