Cosmetic Dentistry in Melbourne CBD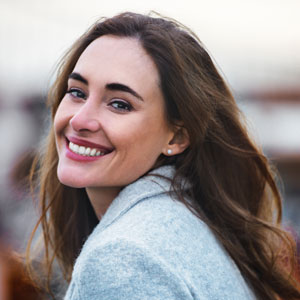 From a minor cosmetic treatment such as tooth whitening, to a complete smile makeover, Collins Street Dental understands improving one's smile is a personal experience and our treatment is always tailored to individual preference and budget. We can help you achieve the smile you've been searching for.
NEW PATIENTS »

What Services Are Available?
With a comprehensive menu of cosmetic dentistry services, we tailor your smile upgrade to being a completely individual experience. We listen to what you want and provide you with suitable options. It may be that the result you want can be achieved with whitening or composite bonding or veneers, or porcelain veneers. Perhaps it is tooth straightening with Invisalign or orthodontic braces, or it may be crowns, implants or any combination of these! We are experts in creating beautiful, natural smiles, helping you to smile with confidence. Digital Smile Design is often utilised when planning cosmetic dentistry. This technology allows us to design your ideal smile making it fit in with your facial shape. You can test-drive how it looks and feels before you commit to treatment.
Benefits of Cosmetic Dentistry
Now that we can show our smile more, it may be time to think about your smile confidence. Anyone who feels self-conscious about their teeth can benefit from a smile enhancement. We often find those attractive teeth help people feel more confident, enhancing their lifestyle on a day-to-day basis.
When we feel happier about the way we look, we tend to smile more frequently and more broadly. It is the difference between smiling like you think you have something stuck in your teeth versus wanting to show off your smile. And all that smiling boosts your body's endorphins (feel-good hormones) to combat stress. Statistically speaking, people who smile more often are perceived to be happier and more approachable. A US study has also found, smiling more may lengthen our lives!
Smile Makeover Process
We start with a Digital Smile Design that allows you to preview various cosmetic services and how they will appear in your mouth. You are able to adjust the colour, shape and size of your teeth, or virtually "try on" different types of restorations. When you have selected your ideal smile, we'll draft a treatment plan outlining options and your next steps.
Why Choose Collins Street Dental for your cosmetic treatment?
Our dentists and clinicians each have an artistic eye, helping you achieve natural-looking results. When it comes to colour, proportion and symmetry, no detail is left out. Thanks to our digital planning software, you can virtually 'test drive' your smile makeover before the treatment starts. Your results are predictable, and there are no surprises.
Frequently Asked Questions
How long does a smile makeover take?
Depending on the treatment you choose, same-day solutions are available. More complex procedures will require additional time.
Yes. We work with your budget and provide a wide range of techniques to fit your lifestyle and goals.
The Services Our Team Offers
Complimentary Virtual Assessments
With our Smile Mate service, you can receive a complimentary virtual assessment sent straight to your inbox. Book yours today!

Cosmetic Dentistry Melbourne CBD | (03) 9654 5144