Teeth Whitening in Melbourne CBD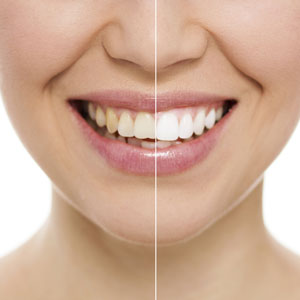 Teeth Whitening is an affordable, safe and easy way to improve your smile. Whitening your smile is great for anyone with tooth stains or who isn't happy with the colour of their natural teeth. It's frequently recommended before other cosmetic procedures, as it establishes a brighter baseline to to which we match any other dental treatment.
NEW PATIENTS »

Advantages of Teeth Whitening
Enhance the brightness of your smile with our professional teeth whitening services. When you want a non-invasive smile enhancement or are seeking to jump-start your cosmetic makeover, whitening is the perfect place to start. Virtually anyone unhappy with the colour of their teeth can benefit from this popular aesthetic service.
Types of Teeth Whitening Available
In-Chair Whitening
Whiten your teeth in one day with our in-surgery treatment. The procedure takes only a little over an hour to complete, making it perfect if you have a special event coming up or want results quickly. We now have Hi-Smile whitening available, which is the latest whitening technology, without the sensitivity often associated with other techniques.
Take-Home Whitening
Home whitening kits whiten your teeth gradually from as little as 10 minutes per day and are gentler for our patients with sensitive teeth. They provide flexibility to whiten your teeth whenever is convenient for you, and allow you to maintain your white tooth shade at home once achieved. For first-time use it also allows you to better control the colour if you have existing crowns or fillings in your smile zone (allowing for a more natural shade)., results are visible in 1-2 weeks.
Single Tooth Treatment
Do you have a single discoloured tooth? If a trauma or previous root canal treatment is causing your tooth to darken, we offer a range of options to lighten it to match your adjacent teeth.
Why Choose Collins Street Dental for your teeth whitening treatment?
Collins Street Dental's personalised approach is tailored to your unique concerns and needs. From single tooth to same-day whitening, we can help you improve the colour of your smile, even if tooth sensitivity is a concern.
Choosing the right kind of tooth whitening for you ensures you achieve the results you are after. Whether that be a natural shade or whitest of white, we will suggest the right technique and product for you.
Many over-the-counter tooth whitening kits lack the necessary concentration of tooth whitening ingredients to achieve any visible changes to your tooth color and it is possible to damage your gums or enamel if products are used incorrectly. We will always examine your teeth first to check which tooth whitening treatment is best for you. We can even help if you have sensitive teeth, as we are one of the first clinics in Australia to a new whitening ingredient without peroxide, which is gentle on gums and perfect for those with sensitive teeth!
Frequently Asked Questions
Can I whiten my teeth if I have crowns or fillings?
You can whiten your own natural teeth, but any dental treatment you have had, such as crowns, veneers or fillings won't whiten. We recommend an assessment with our dentists first to advise you if tooth whitening is recommended, as you may need to replace the crown or filling afterward, to match your new tooth shade.
Anywhere from a few months to a year. Occasional touch-ups are recommended to maintain your whiter smile
Can I whiten if I have sensitive teeth or gums?
Yes. We have various products to help. Book a consultation so we can talk through each option with you.
The Services Our Team Offers
Get Started Today
Which teeth whitening treatment is right for you? Contact us today to reserve a consultation.

Teeth Whitening Melbourne CBD | (03) 9654 5144