Dental Crowns in Melbourne CBD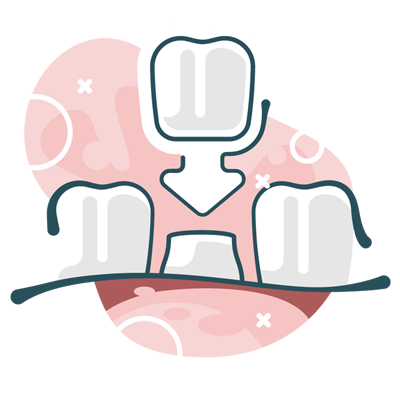 A crown is an extremely durable tooth restoration that is used to protect a weak, worn or cracked tooth or to disguise a discoloured tooth.
Crowns are used for teeth that are
Cracked
Broken
Heavily filled or repeatedly 'patched up'
Worn
Discoloured or misshapen
From a function perspective, we can address worn, flat or shorter teeth, or teeth that have repeatedly broken or cracked, and been patched up and repaired over and over. To break that cycle, having a crown can prevent frequent visits to repair a tooth.
NEW PATIENTS »

What Are Some Benefits?
Crowns can be bonded to your teeth and are one of the strongest restorations that we have as dentists. If a tooth is weak, cracked or has been repeatedly repaired, placing a crown can prevent further damage to your tooth and ultimately prevent loss of a tooth. They are usually recommended if you have worn your teeth down to rebuild them back to their pre-worn height. Multiple crowns are often required where tooth wear is a concern. In addition to protecting and rebuilding teeth, crowns can be used to improve aesthetics. The appearance of a porcelain crown replicates natural tooth enamel and can be used to enhance a smile or provide a more youthful appearance.
Why Choose Collins Street Dental for your dental crowns?
Like cars, there are some that last longer than others. Obviously, it is better for the tooth to have fewer crown replacements during your lifetime. Our meticulous attention to detail, allowing the time to do things properly is what is needed for the best, long-term treatment results. Our dentists are highly experienced in providing precisely crafted, custom-fitted crowns. Precise fitting crowns mean less plaque retention, which means healthier gums.
No two crowns are the same and we work with an expert team of dental technicians to ensure that every crown we place is exemplary and you enjoy a beautiful, long-lasting result.
From the initial diagnosis to the end of your treatment and beyond. It is our priority at Collins Street Dental that you feel informed and taken care of. Your treatment with us doesn't end when your crown is finished, we will ensure your crown is maintained so that it lasts as long as possible. Our hygienist team will see you, as regularly as you require, to help you maintain your new dental work and that your teeth remain healthy.
Frequently Asked Questions
Usually, the preferred material of choice is Porcelain. The porcelain is reinforced and provides an extremely strong, natural looking, tooth-coloured crown but they can also be made of gold alloy or even a metal and porcelain combined.
If taken care of properly, average crowns last 10- 12 years, however we are seeing our crowns still going strong for 20 years and more.
How long will it take to get my crown?
A crown is usually completed over two visits. In between appointments, you will have a temporary crown to protect your tooth. If multiple crowns are required, our dentists will discuss with you the option having them done simultaneously, saving you extra visits and your valuable time.
We offer a variety of payment plans to suit you. If you would like to know more about payment plans, please discuss this with one of our team.
The Services Our Team Offers
Book an Appointment
Contact Collins Street Dental to schedule an appointment.

Dental Crowns Melbourne CBD | (03) 9654 5144