Invisalign® in Melbourne CBD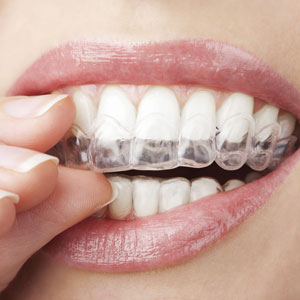 Invisalign treatment is a type of orthodontic treatment. It uses a series of clear plastic aligners to gradually move your teeth. Virtually invisible and extremely predictable, it is perfect for anyone with crooked teeth, misaligned teeth or who feels self-conscious about their smile.
NEW PATIENTS »

What Are the Benefits?
With Invisalign systems, no metal brackets or wires are required. The aligners are removable and they are designed to be worn all day and night but removed when you eat and drink or brush your teeth and can be left out for an important occasion. Unlike with traditional braces, good oral hygiene is easy to maintain and the aligners are so comfortable you will soon forget you are wearing them. Since they're virtually invisible, no one else will need to know you're wearing them either.
How Invisalign Works
The Invisalign process begins with a no-obligation consultation and scan of your teeth. Using the scan we are immediately able to create and show you a simulation of your expected end result for you to see.
Collins Street Dental uses Invisalign digital technology to accurately predict tooth movement and calculate the number of aligners you'll need, to achieve your ideal tooth position. Using the initial scan of your teeth, Invisalign aligners are 3D printed. Each aligner is slightly different, designed to gently apply pressure at precise points, to gently move your teeth. Once you are ready to proceed with your treatment, your aligners are ordered and your treatment can start as quickly as a few weeks later.
Why Choose Collins Street Dental for your Invisalign® Treatment?
Before you commit to treatment, we can show you a digital mock-up of what your smile will look like after Invisalign treatment, so that you have a clear idea of what your end result will be. We can incorporate other cosmetic techniques, which may further enhance your new smile, into your virtual preview such as tooth whitening, porcelain veneers or composite veneers or bonding, enabling you to see the complete final result. Unlike other Orthodontic providers, we are able to offer these dental treatment options, not just Orthodontic treatment or Invisalign, which allows you freedom of choice.
We can save you time with fewer visits by offering virtual Dental Monitoring services, where you can send scans of your teeth electronically via your mobile phone. This allows our dentists to electronically monitor your progress more regularly than would be traditionally possible with in-office appointments and send you instructions when needed. You'll be provided with your own dental monitoring coordinator, who can answer any questions you might have via the app and be able to keep on track with your Invisalign treatment, wherever you are in the world! It is great for Teens too, as we can ensure they are wearing their aligners and keeping on top of their tooth brushing!
Our Invisalign providers are not just experts in Invisalign, they are trained in a range of orthodontic modalities. This ensures the best option to achieve your desired result is always available to you.
Frequently Asked Questions
Is there an age limit for Invisalign?
There is no specific age requirement for Invisalign, we have treated patients from 8-80 yrs old. If you would like straighter teeth, you are a possible candidate.
One of the benefits of Invisalign is that it is much more comfortable than traditional braces. Most of the time you will forget you have your Invisalign aligners in. It is usual for a new set of aligners to feel tight, when they start tooth movement, but this feeling is expected to last only for 24 hours or so.
Can I eat or drink with my Invisalign trays in?
If you eat and drink with your aligners in, food and drink may remain in the aligners and lead to staining of your teeth or contribute to tooth decay. For this reason, it is recommended to remove your aligners whenever you eat or drink anything except water.
The Services Our Team Offers
Request a Consultation
Contact us today to find out if Invisalign aligners are right for you.

Invisalign® Melbourne CBD | (03) 9654 5144