Dr Russell McDonald, Dentist Melbourne CBD
Implant and Invisalign® Dental Provider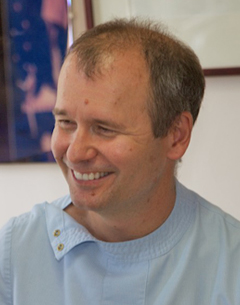 A need to help others motivated Dr Russell to join the dental profession. He has always enjoyed using his hands and together with a deep caring nature, he brings these attributes to the benefit of his patients.
Professional Background
Dr Russell graduated with honours in 1996 from the University of Queensland, where teaching standards for dentistry are world-renowned. He joined Collins Street Dental in 2014 where he became widely known for his friendly, gentle, and caring nature. Russell worked in London and Cambridge, UK for 10 years where he started his own private Dental Practice. The call home finally became irresistible and he relocated with his family to Melbourne.
Dr Russell enjoys all aspects of dental treatment and provides the surgical placement of dental implants. He is a member of the Australian Dental Association. One of Dr Russell's primary concerns is to help people maintain an optimum level of comfort during their appointments. He enjoys getting to know his patients individually, combining high-quality personalised service with the utmost professionalism.
A Fulfilling Career that Changes Lives
One of the most rewarding aspects of dentistry for Dr Russell is seeing his patients happy with the results of their successful dental treatment. He loves working with the highly trained Collins Street Dental team to continuously improve patient care, staying up to date on the latest treatments and techniques.
Outside of Office
Outside of work, Russell is passionate about quality time with family and friends. You will find him rowing on the river early in the morning or slowly jogging around the park with his old Labrador, Milo.
Meet Dr McDonald
Find out how we can help you improve your oral health. Book your time with our warm and welcoming team today!
---
Collins Street Dental | (03) 9654 5144